01 Jun

Oasis Festival's Guide to Eating Like a Local in Morocco
From the dizzying aroma of slow-cooking tagine, to the lip-smacking sweetness of piping hot mint tea, the incredible cuisine is one of the best reasons to travel to Morocco.
Morocco has one of the richest and most universally beloved cuisines in the world. Seductively aromatic with heavy spices and diverse ingredients, our cuisine is the meeting place between African, Middle Eastern and Mediterranean food, and the shared dining culture makes the dinner table a sacred place as the hot afternoon sun disappears over the Atlas Mountains.
At Oasis we will be bringing some of Marrakech's finest authentic street food vendors to The Source resort, so that you'll be able to indulge in the simple culinary majesty of the local culture as you groove to the best house and techno in the underground. But away from the festival, we encourage you to get lost in cuisine of the cities and villages, where centuries of culture come together and break bread at the dinner table.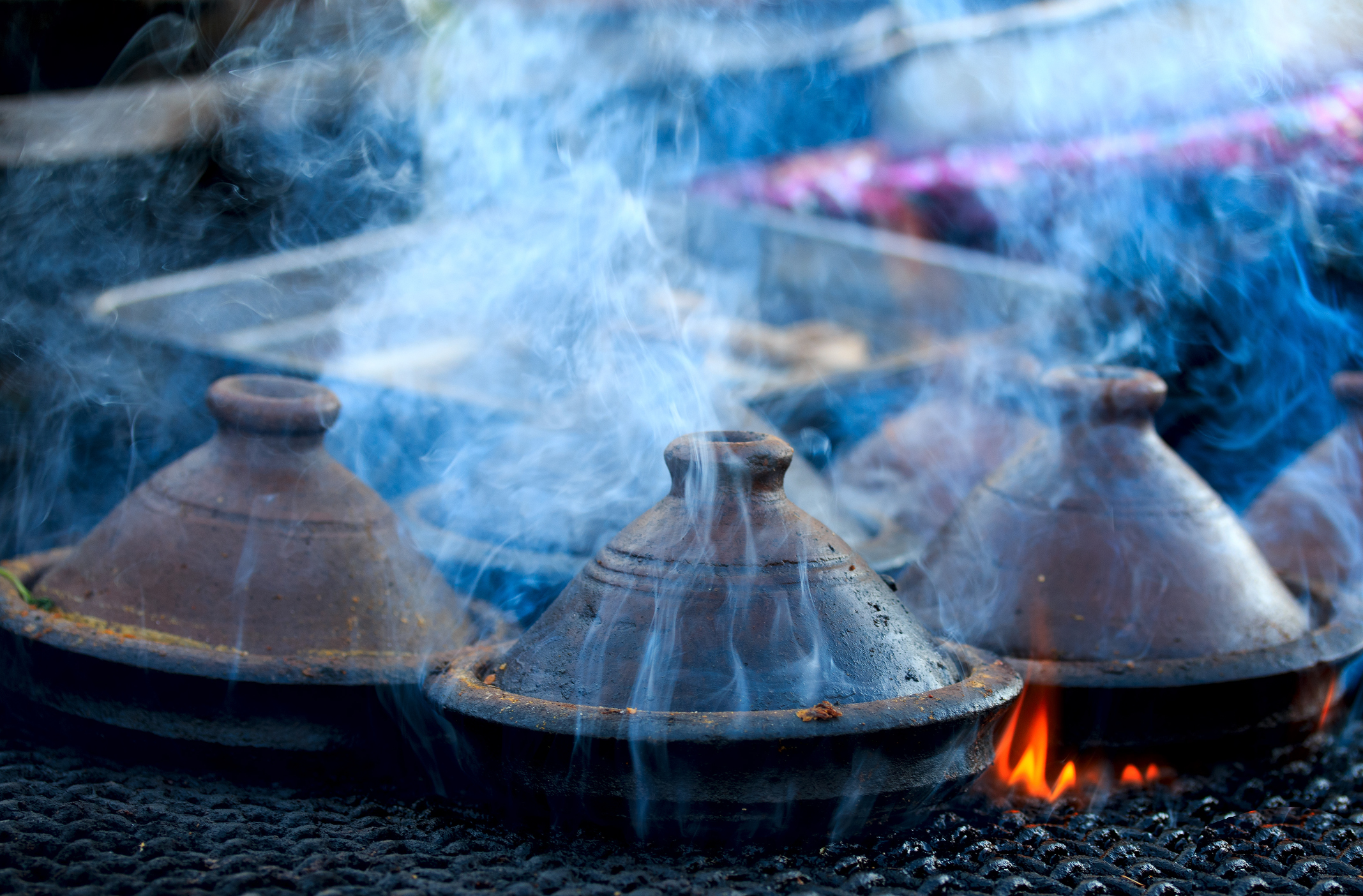 Tajine should be at the top of any list of must-try Moroccan dishes. The richly spiced slow-cooked medley of meat and vegetables is the name for both the dish and the ceramic pot it's cooked in, and comes in a variety of forms.
Couscous is another staple of Moroccan cuisine. Being our equivalent to pasta or rice, it's common across the country. In Berber tradition however, it can be served with buttermilk.
Zaalouk is a widely found smoked aubergine dip and a must-try, while for dessert we recommend some almond and honey pastries with a cup of sweet mint tea!
Bread is also a huge part of the Moroccan dining experience, and the idea of having a low tolerance for gluten doesn't really figure in the thinking out here. People will certainly be sympathetic to your needs, but understand that with some dishes, bread will be used instead of cutlery.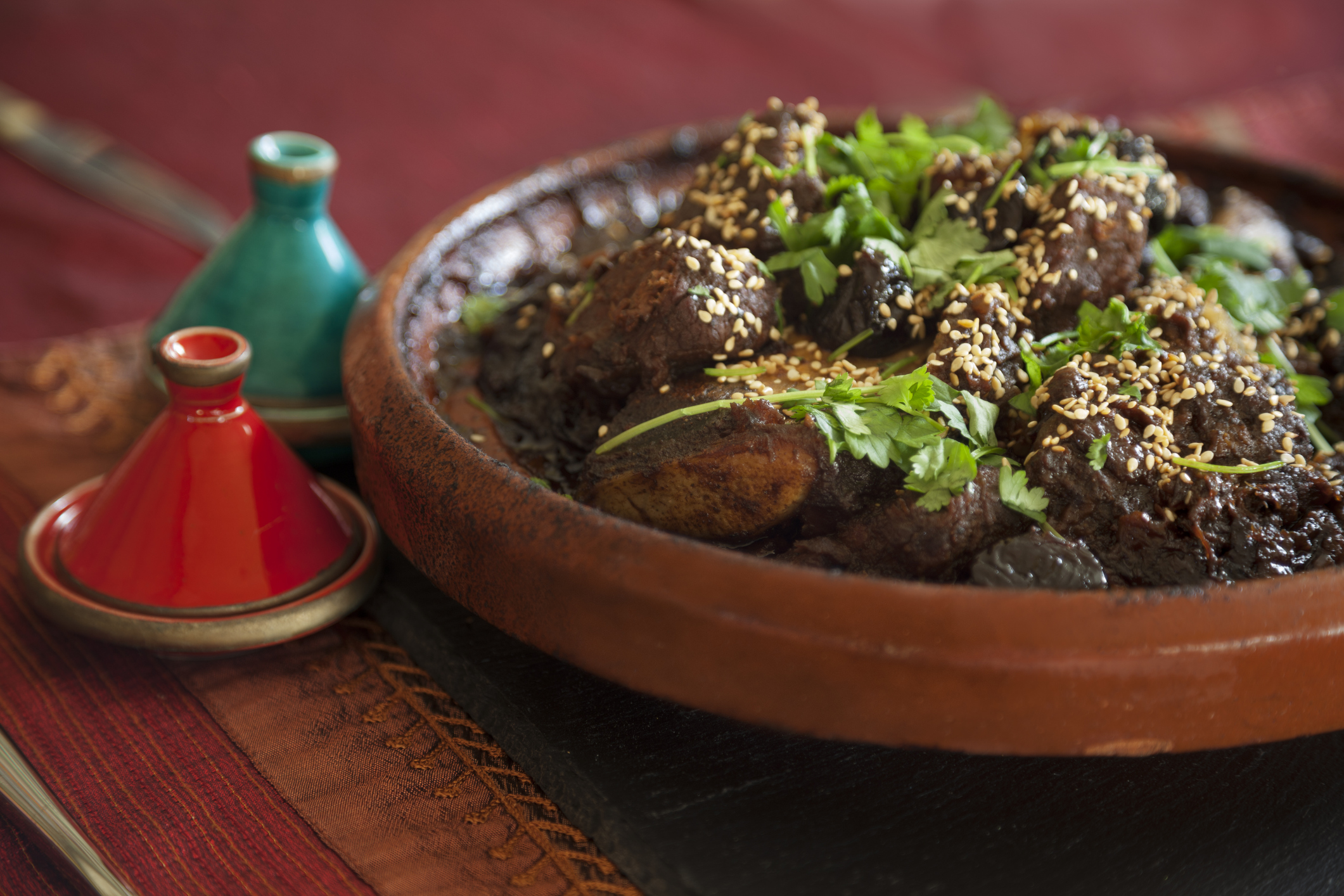 Moroccan dining is based around the shared plate, but that doesn't mean that it's a free-for-all. You are designated the section of the plate that is immediately in front of you, so don't go reaching over to cherry pick that big succulent chicken leg on the other side of the plate. That's not for you.
Despite its ancient vibe and outward presentation as a land steeped in antiquated, old world traditional, many places in Morocco do now accept credit cards, but it's always better to assume that they don't and bring cash.
Chahiya Taiyba or BisaHa-> Bon Appetit
Al Hamdoulilah -> This phrase literally means 'Thank god' and is said at the end of a heavy meal. But it's also used if someone burps.
Atini el khobz -> Pass me the bread
Atini el maa -> Pass me water
Ahfek – Please
Shookran – Thank you
Recent years have seen alcohol become an increasingly prevalent part of urban Moroccan culture, and it's not uncommon to find a bottle of wine or some beer being shared amongst young people at a table. This doesn't typically extend to the rural areas, where traditional Berber culture is upheld and the people generally abstain from getting loose with Baccus.
Alcohol however is still in a grey area of acceptability in Morocco. You can drink in hotels and restaurants, and people care less and less about it these days, but we strongly advise respectful, low key and not getting sloppy.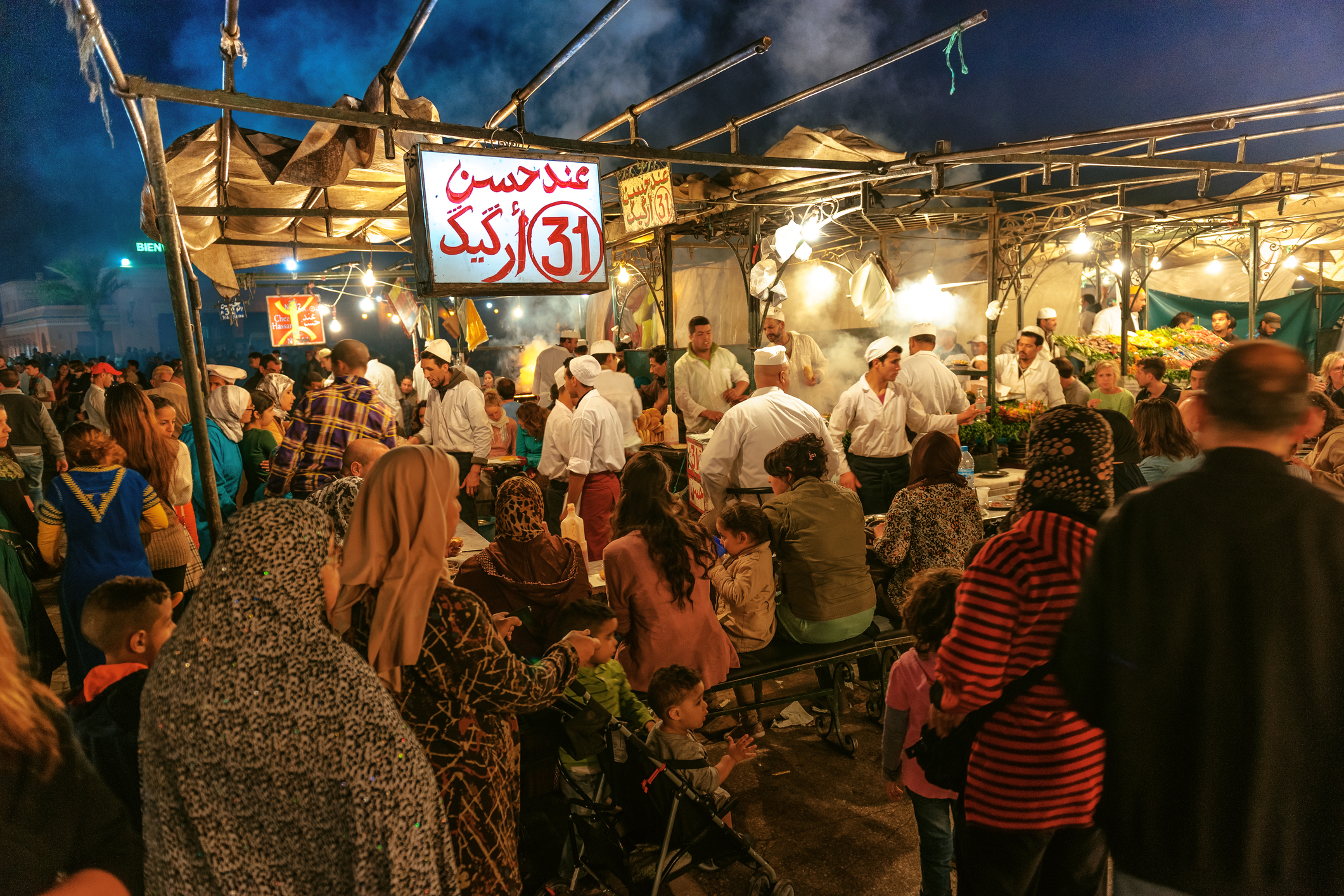 Getting lost in the Jemaa-El Fnaa market is probably the most enchanting, dizzying, and sensory arresting experience you can have on holiday in Marrakech. The labyrinthian ancient souk is not only home to snake charmers, tooth pullers, silk hustlers and circus performers, but it's also the gateway to traditional Moroccan street food. Just keep your eyes peeled and wits about you, as it's not uncommon for tourists to get pick pocketed or fleeced from time to time.
Riads are often said to serve up some of the best food in Morocco. The cooks in the kitchen are the keepers of generations old recipes and techniques, and often cook the kind of food that you can expect to find in a Moroccan household. So if you aren't fortunate enough to get invited to someone's house for a feast, look for a traditional riad which serves lunch and dinner to non-guests.
We consider spots like Kechmara, La Cantine Parisienne, Nomad and Le Loft to be some of our favorite places to eat in Marrakech, and if you want to dig a bit deeper and start mapping out your culinary adventure in old world Africa, visit our in depth Travel Guide section.